Marianna Naturals ® was born from our belief that the world deserves 100% natural skincare and cosmetics without
the use of chemical preservatives. Producing CBD & Non-CBD products that are hand-made fresh at our facilities in
the USA and are always Cruelty-Free, Paraben-Free, and Sulfate-Free.
Beauty Kitchen's founder and CEO, Heather Marianna, skyrocketed in popularity with the launch of her Beauty Kitchen YouTube
series in 2012 where she showcased simple, do-it-yourself beauty recipes made with common kitchen household ingredients.
The series generated a powerful following of more than 4 million viewers. Heather Marianna has starred on Bravo's luxury-travel series,
"Tour Group" in 2015 and was featured on Oxygen's "My Super Shopping Addiction" in addition to appearing on several episodes of MTV's
"Teen Mom OG." The DIY guru has also appeared on countless news segments across the country as a beauty expert, showcasing her
own simple tricks and tips. She is the official beauty expert for KSNV-NBC 3 in Las Vegas and appears monthly to captivate viewers
with new DIY tutorials.
PLC Health Solutions Inc. founded in 2012, is a BC based company specialized in the research & development, marketing and regulatory compliance of natural health products. The Company has developed several lines of proprietary natural health products to help consumers maintain and improve health. With a team that consists of a herbal chemist, QA specialist, formulation expert, Biology scientist, and clinician; PLC also provides a wide range of consulting services, especially to those overseas companies who want to enter North America market.


Brandbomb Marketing is a leading boutique public relations agency, having worked with big name celebrities including Will Smith, Chris Brown, Ciara, LL Cool J, Ashanti, P. Diddy, Farrah Abraham and many more. Clients coverage in prominent outlets include: TMZ, US Weekly, Star Magazine, Forbes, "The Steve Harvey Show," "The Wendy Williams Show," Newsweek, E!, Yahoo, TLC's "90 Day Fiance", USA Today and on over 250+ national TV morning news segments.


With over 850 Million downloads globally, Perfect Corporation is dedicated to transforming how consumers, content creators and beauty brands interact together through AI and AR technologies. Our experienced team of engineers and beauty aficionados are pushing the frontiers of technology to create the beauty platform of the future – a fluid environment where individuals express themselves, learn the latest about fashion and beauty, and enjoy instant access to the products from their favorite brands.


With over 1 million unique visitors a month, Stockhouse is Canada's #1 financial portal and one of North America's largest small cap investor communities. Our members are smart, affluent investors actively researching stock and looking for new opportunities. Stockhouse.com is the global hub for investors to find relevant financial news, access expert analysis and opinion and share knowledge and information with each other.
BEAUTY & PERSONAL CARE STATS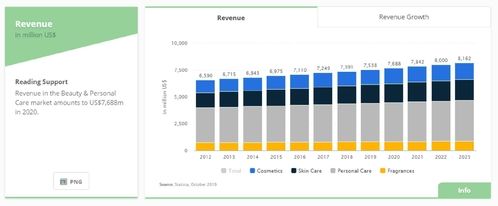 HIGHLIGHTS

Revenue in the Beauty & Personal Care market amounts to US$7,688m in 2020. The market is expected to grow annually by 2.0% (CAGR 2020-2023). The market's largest segment is the segment Personal Care with a market volume of US$3,646m in 2020.
In global comparison, most revenue is generated in the United States (US$84,970m in 2020).
In relation to total population figures, per person revenues of US$203.69 are generated in 2020.

MARKET DEFINITION

The Beauty & Personal Care market is defined here as consumer goods for cosmetics and body care. Included are beauty cosmetics for the face, lips, skin care products, fragrances and personal care products such as hair care, deodorants and shaving products.
Excluded are beauty services, such as hairdressers, professional products and electric personal care products. Products that primarily serve medical purposes are also excluded here but shown as part of the OTC Pharmaceuticals market. All shown sales values refer to the retail value and include sales taxes.
THE COMPANY IS POISED FOR MASSIVE GROWTH IN CANADA


• We have launched a major digital marketing campaign to drive direct-to-consumer sales

• Identifying a JV partnership to exploit the massive growth in the CBD market and/or service large-scale white-label CBD opportunities

• Leverage existing social media following, celebrity clientele, and product reviews to reinvigorate customer base

• Engage Small and Power-Middle Influencers to promote the Marianna Naturals brand

• Drive our in-store pop-up initiative with high end boutiques throughout Canada

• Target mass distribution with Big Box Retail
CURRENTLY IN OVER 120 RETAIL LOCATIONS (U.S.A)

****David Arquette, Tyson Beckford, George Lopez, RuPaul, P-Diddy****

****Christina Milian, Evander Holyfield, Barbara Cochrane, Lou Ferrigno****



****Lisa Rinna, Angela Bassett, Candace Cameron, Jen Harley****
"I love all the products That Beauty Kitchen sent me! The fact that they made a self care kit at such an crazy time for the world really put a smile on my face. Now more than ever is the best time to take care of yourself! "
- Arianny Celeste, UFC Personality, @Ariannyceleste 3.3M Followers
"Beauty Break Time! using my @beautykitchenjunkie Diamond eye gels. They help brighten tighten and de-stress the eye area "
- Vanessa Simmons, TV Host
"Gotta get rid of these damn bags under my eyes for my upcoming shoot, so I use BK under eye gels "
- Don Benjamin, Model / Actor, @Donbenjamin 2.2M Followers
"@BillyCharlesNY @alexisbellino @heathermarianna @iamheathert thank u!!!!! Love the smell and the natural part! Xo "
- Aviva Drescher, Bravo Reality Star, The Real Housewives Of New York
"This Rosewater spritz is awesome for keeping my skin hydrated throughout the day. @beautykitchenjunkie Support #ladyentrepreneurs "
- Alison Waite, Playboy Playmate / TV Personality
"The Quarantine bundle is a Perfect pick me up for yourself or a family member who are going through hardships right now "
- Enna Schell, Model, @Enna_nutschell 83.9K Followers
Sign up for email updates to get special deals, investment opportunities, product alerts, invites to local events, and more!